Alex Gavan – A Challenger of Heights Inside and Out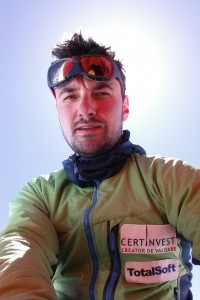 A leading Romanian high altitude climber, Alex Găvan believes in aiming for excellence through honest performance, while holding performance accountable at all times. He feels that "mountains are not to be climbed with ice tools and crampons only, which we all can have; but above everything else, with humbleness". To Alex "Climbing mountains Outside is climbing mountains Inside".
By the age of 32 he reached six 8000m summits in the Himalayas by fair means, without using supplemental oxygen and high-altitude porters, still being the youngest Romanian who climbed an 8000er (Cho Oyu, in 2006) at only 24.
Three of the six peaks climbed by Alex were First Romanian Ascents: Shisha Pangma (8027m) in 2013;  Makalu (8463m) in 2008; and Gasherbrum I (8068m) in 2007. Broad Peak (8047m) in 2014; Manaslu (8156m) in 2011; and Cho Oyu (8201m) in 2006 were second Romanian ascents.
Alex is the recipient of the 2008 "Gold Medal for Merit in Sport" (Spain). He was awarded twice "The Romanian Sportsman of the Year in High Altitude Climbing" by the Romanian Federation of Mountaineering and Sport Climbing and nominated twice more for the same award. An active environmental activist, is also a WWF Romania Ambassador since 2011. Among others, he got Best Of ExplorersWeb Award in 2008; he was included in the 2012 Top of "30 Under 30" of Forbes Romania; in 2014 he was one of Men's Health Magazine "Men of the Year"; and he was in the 2015 Foreign Policy Romania's Top "100 People and Ideas that Move the Country", receiving also the FP Romania Special Career Award.
Alex renders each experience in inspiration for leadership, vision, strategy, and tactics through powerful speeches. Over 30,000 people have attended his speeches, from highest-level decision makers to youngsters.
He trusts the transformational power that good thoughts and deeds set free in all of us.
You can read his account about what happened on Everest on April 25,  on this piece he wrote for Time.com.
Restarting Lives,
Rebuilding Joy