Matthieu Riccard – Compassion in Action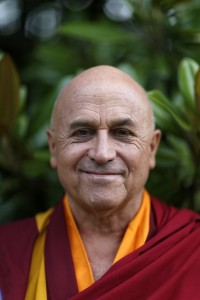 Born in France in 1946, as the son of French philosopher Jean-François Revel and artist Yahne Le Toumelin, Matthieu Ricard is a Buddhist monk, author, translator, and photographer. After completing his Ph.D. degree in cell genetics in 1972 at the Pasteur Institute under French Nobel Laureate François Jacob, he moved to the Himalayan region where he has been living for the past 40 years.
Matthieu Ricard is the author of several books, translated into over twenty languages, such as: "Happiness: A Guide to Developing Life's Most Important Skill", "Why Meditate? (The Art of Meditation in the UK)", "The Quantum and the Lotus (a dialogue with the astrophysicist Trinh Xuan Thuan)", and "The Monk and the Philosopher", a dialogue with his father.
Matthieu Ricard has dedicated his life to the study and practice of Buddhism following the teachings of the greatest Tibetan spiritual masters. He has been the French interpreter for the Dalai Lama since 1989.
For many years Matthieu Ricard has been photographing the landscapes, spiritual masters, and people of the Himalayas. His work is exhibited in museums and art galleries throughout the world. He is the author and photographer of a number of photography books.
Henri Cartier-Bresson has said of his work, "Matthieu's spiritual life and his camera are one, from which spring these images, fleeting and eternal."
Matthieu Ricard is a board member of the Mind and Life Institute, an organisation dedicated to broadening the understanding of how the mind works. He contributes to the research on the effect of meditation on the brain at various universities in the USA and Europe and is the co-author of several scientific publications. He also contributed for the book Destructive Emotions, edited by Daniel Goleman.
All proceeds from Matthieu Ricard's books, photographs, and events are donated to Karuna-Shechen (www.karuna-shechen.org/), the humanitarian association he created. Based on the ideal of "compassion in action", Karuna-Shechen develops education, medical, and social projects for the most destitute populations of the Himalayan region.
He received the French National Order of Merit for his humanitarian work in the East.
For more information on Karuna-Shechen: www.karuna-shechen.org
Restarting Lives,
Rebuilding Joy