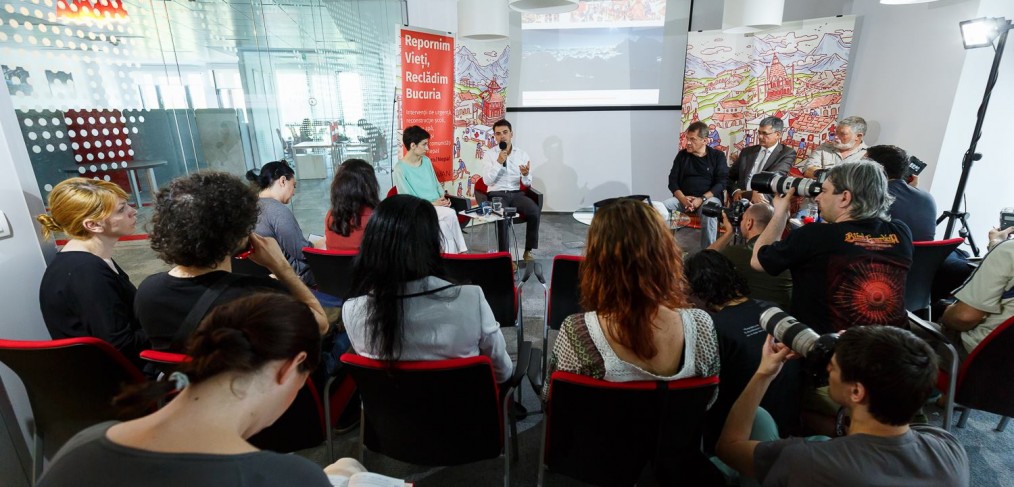 Restart Lives and Rebuild Joy by Making a Donation to Nepal
With his partners and friends' support, high altitude climber Alex Găvan launched today the fundraising campaign Joy for Nepal, set up to sustain the post-disaster intervention and reconstruction operations in Nepal. The campaign will unfold for 7 weeks and 9 days, to evoke the magnitude of the earthquake that devastated this country on April 25, 2015. That day Alex was in the Everest Base Camp, on his expedition for the ascent of Lhotse summit (8,516m / 27,940 ft).
"After surviving the avalanche on April 25th and helping in rescue operations and with the medical assistance at the Base Camp, while I was on the Everest descent, I felt that I wanted to help the people of Nepal. The Everest experience was a near-death one for me; yet for the Nepalese, to this moment, every day involves a near-death experience. Through our Campaign we want to facilitate the financing of reconstruction and livelihood recovery in some Nepalese communities, and to help them move ahead. The project opens future prospects for Nepal beyond the wreckage and distress, and makes it easier for people to rebuild their lives and regain their joy of living. Following this belief we decided not only upon the Campaign's tagline – 'Restarting Lives, Rebuilding Joy', but also upon the partner to execute the Campaign in Nepal, i.e., Kharuna-Shechen organization, founded by renowed author Matthieu Ricard, who has been working since 2000 in assisting the advance of rural communities in Nepal and has experience in post-disaster intervention. My open thank you to Matthieu Ricard for his trust, as well as to all those who made this Campaign possible in such a short time and at no direct cost to the project," said Alex Găvan at the Campaign launching.
Funds will be raised through various methods: 2 EUR donations via SMS sent to 8826, from Romania; worlwide direct payment by card on Campaign's website www.alexgavan.ro/nepal; sponsorship contracts; redirecting 2% of tax. Donations can be made both in the country and abroad.
100% of raised funds will reach the final beneficiaries, people of Nepal.This is possible for two reasons. On the one hand, the entire fundraising campaign is done pro-bono by people and companies from Romania who got involved willing to do good and to give a chance to those who need to rebuild their lives in Nepal. On the other hand, the partner responsible for putting the intervention and reconstruction project into action in Nepal has the administrative costs covered by his own sponsor.
The raised funds will mainly finance reconstruction operations in isolated communities affected by the earthquake, as well as rebuilding schools, medical facilities, clean water supply. Furthermore, the funding will support the development of local leaders' networks, including women, in order to help them take over and carry on the reconstruction process. As new disasters are possible, up to 25% of the donations may go to emergency interventions.
Our Campaign's website www.alexgavan.ro/nepal will publish activity reports to track transparently both the use of funds and the progress accomplished.
"The Campaign is designed based on the difference it makes to us all wherever we are – in Nepal or Romania – to feel the joy of living standing out against the despair of powerlessness. The earthquake left thousands of people without anything and without their loved ones. They should be helped to start their lives all over again and to regain their joy of living. As for us, in Romania or wherever else, to do good by these people when we think we don't have much to do for them is in itself a way to bring and share the joy of living," mentioned Oana Marinescu, Director of OMA Vision and Coordinator of the communication campaign.
The Partner in Nepal – Karuna Shechen
Karuna-Shechen was set up in 2000, by Matthieu Ricard, with the mission to provide quality healthcare, education, and social services to individuals and families in the poorest communities in Tibet, Nepal, and India. The organization places a special emphasis on the empowerment of women and young girls and the preservation of cultural heritage. Over twenty years of experience have allowed the organization to establish a collaborative team of professionals who work within local communities to identify and implement projects that respond directly to their needs. Even in adverse political situations, their projects have continued to thrive because they are community-based in scale and focus.
Since 2013, Karuna-Shechen has been running an Advanced First Aider (AFA) Training program in Nepal, under the Disaster and Emergency Response Program. Within this program, the organization has trained 294 AFAs to date, and is currently training 100 more and has been conducting medical response drills, to be ready to respond immediately in case of natural disasters.
Karuna-Shechen relief work in Nepal follows a 3-step program:
Medical response, both short-term and long-term;
Food and shelter, both short-term and long-term;
Rehabilitation and reconstruction, essentially long-term.
Karuna-Shechen will continue to bring medical and relief assistance (food and shelter) to communities affected by the earthquake as long as they need it. Karuna has been working in Nepal since 2000 and has built in this time a network of local grassroots organizations. Through this network they are able to reach isolated communities. Karuna-Shechen is joining forces with them to deliver adequate aid, reach isolated villages, and help those who are too often forgotten.
Rehabilitation and reconstruction will be the next phase. Given the magnitude of the devastation, this is not going to be a small or easy task. This will include building schools and houses, helping schools with their educational programs, rain water harvesting, planting of kitchen gardens and women empowerment. The organisation has started to assess the needs of the people and will devise long-term programs that benefit communities as a whole, based on their specific requirements.
Shechen Clinic, in collaboration with the monks at Shechen Monastery in the vicinity of the clinic which housed hundreds of people left homeless by the earthquake of April 25, 2015, assisted and treated the wounded in the neighborhood. Sechen Clinic's doctors and medical staff have been mobilized around the clock to help. Medical teams go every day to places hardly accessible. In partnership with local NGOs, Karuna-Shechen brings to the population affected by the earthquake, especially in remote areas and the villages of Kathmandu Valley, food, medicine and shelter. The organization directs its rescue efforts and aid to small and isolated communities, where conditions are extremely poor and there is a high risk of epidemics.
So far, plans to provide aid to nearly 25,000 people in 6,500 households have been finalized. After completion of damage assessment, will be developed and an intervention plan for reconstruction.
Matthieu Ricard
Born in France in 1946, as the son of French philosopher Jean-François Revel and artist Yahne Le Toumelin, Matthieu Ricard is a Buddhist monk, author, translator, and photographer. After completing his Ph.D. degree in cell genetics in 1972 at the Pasteur Institute under French Nobel Laureate François Jacob he moved to the Himalayan region where he has been living for the past 40 years.
Matthieu Ricard is the author of several books, translated into over twenty languages, such as: "Happiness: A Guide to Developing Life's Most Important Skill", "Why Meditate? (The Art of Meditation in the UK)","The Quantum and the Lotus (a dialogue with the astrophysicist Trinh Xuan Thuan)", and "The Monk and the Philosopher", a dialogue with his father.
Matthieu Ricard has dedicated his life to the study and practice of Buddhism following the teachings of the greatest Tibetan spiritual masters. He has been the French interpreter for the Dalai Lama since 1989. For many years Matthieu Ricard has been photographing the landscapes, spiritual masters, and people of the Himalayas. His work is exhibited in museums and art galleries throughout the world. He is the author and photographer of a number of photography books.
Matthieu Ricard is a board member of the Mind and Life Institute, an organization dedicated to broadening the understanding of how the mind works. He contributes to the research on the effect of meditation on the brain at various universities in the USA and Europe and is the co-author of several scientific publications. He also contributed for the book Destructive Emotions, edited by Daniel Goleman.
All proceeds from Matthieu Ricard's books, photographs, and events are donated to Karuna-Shechen (www.karuna-shechen.org/), the humanitarian association he created. Based on the ideal of "compassion in action", Karuna-Shechen develops education, medical, and social projects for the most destitute populations of the Himalayan region.
He received the French National Order of Merit for his humanitarian work.
WHO SUPPORTS US:
The Expedition for Lhotse Ascent was supported by CertInvest (Main Partner), TotalSoft (Partner),  Zitec (IT Partner), OMA Vision (Communication Partner), and also by Intercapital Invest, Accountess, World Class, Suplimente.ro, Sanador (Supporters).
The Joy for Nepal Campaign is supported so far by:
Friends: Ivan Patzaichin – Sprint Canoe Olympic Champion; Oana Pellea – Actress; Eugen Voicu – Founder CERTINVEST; Cătălin Tolontan- Journalist; Liviu Drăgan – CEO TotalSoft; Cristian Lascu – Speleologist; Vlad Mixich – Journalist; Adelin Petrișor – Journalist.
Partners who made this project possible: OMA Vision, ZITEC, ZVAC, NETOPIA, HEADVERTISING, ACCOUNTESS, Graphician Tuan Nini, CCIFER, donatie.ro
Sponsors: TotalSoft, Trend Consult
Media Parteners: TVR, News TVR, Sports Gazette, RFI Romania, National Geographic, FP România, Marie Claire, Think Outside the Box, Auto Motor Sport, House and Garden, TheWomanToday
For additional details:
nepal@alexgavan.ro
DOWNLOAD -> 1-Press Release Nepal Campaign (May 19)
Restarting Lives,
Rebuilding Joy