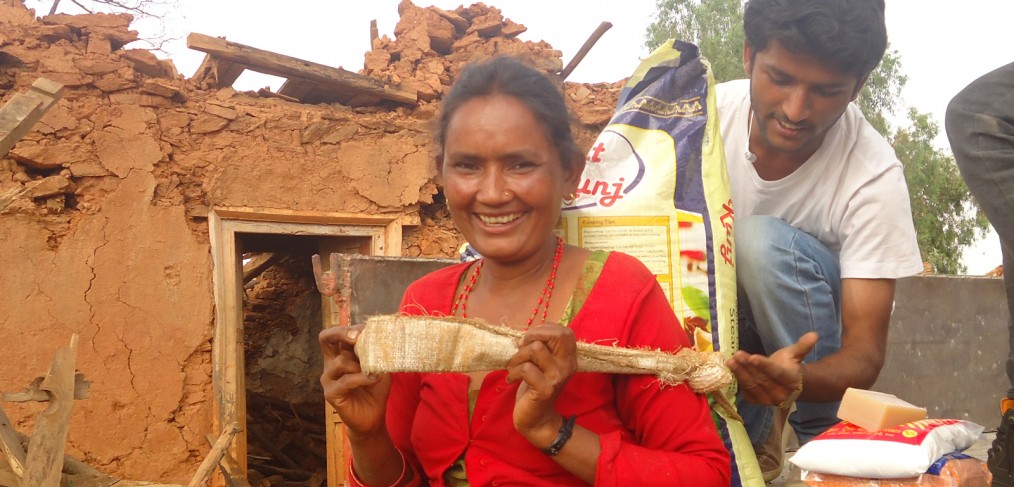 'Joy for Nepal' Fundraising Campaign Extended Two Weeks
'Joy for Nepal' fundraising campaign, launched by high-altitude climber Alex Găvan, is extended until July 31, 2015, to allow it to raise further funds. The campaign was meant to conclude today, July 14, on the seven weeks and nine days mark, originally intended to mirror the 7.9 degrees magnitude of the earthquake that rocked Nepal on April 25. So far a total of 67,794 Euro has been reached through donations from individuals, companies, and fundraising activities initiated by other organizations or supporters.
The campaign continues for the following two weeks, funds being raised through 2 Euro donations via each SMS sent to 8826 over the Orange, Telekom Romania and Vodafone networks; card payments online at www.alexgavan.ro/nepal; as well as sponsorships or charitable events.
'I am impressed by the tremendously compassionate response received from all those who contributed to this campaign and I thank everyone for their solidarity and generosity. I feel as if I asked for support to climb a mountain that I couldn't have climbed it alone, and got it. This is the mountain of generosity, the one we climb together to restart lives and rebuild joy, not only in Nepal, but also in our own hearts' declared for media Alex Găvan.
On July 17 will take place a new community fundraising initiative, launched by journalist Iulia Ilie – a 100-minute session of ZUMBA ® charity in Pitesti, in the University Gym. The session starts from 7:00 p.m. and will be coached by trainers Alexandra Tomulescu and Ionuț Iordache. Money raised from the admission tickets, worth 25 lei per person, will be donated to #joy4nepal.
All raised funds will reach Nepalese people in need, through special reconstruction projects managed by Kharuna-Shechen organization, founded by renowed author Matthieu Ricard. The raised funds will mainly finance reconstruction operations in isolated communities affected by the earthquake, as well as rebuilding schools, medical facilities, clean water supply. Furthermore, the funding will support the development of local leaders' networks, including women, in order to help them take over and carry on the reconstruction process. As new disasters are possible, up to 25% of the donations may go to emergency interventions.
No funds raised are used to cover any administrative expenses, as the entire fundraising campaign is done pro-bono by people and companies from Romania who got involved willing to do good; and Karuna-Shechen has all administrative costs covered by its own sponsor.
The fundraising campaign Joy for Nepal was launched on May 19, 2015, following the tragic earthquake that devastated Nepal on April 25, 2015. That day Alex was in the Lhotse/ Everest Base Camp. The Campaign's website www.alexgavan.ro/nepal will publish activity reports to track transparently both the use of funds and the progress accomplished.
ADDITIONAL INFO: 
The Partner in Nepal – Karuna Shechen
Karuna-Shechen was set up in 2000, by Matthieu Ricard, with the mission to provide quality healthcare, education, and social services to individuals and families in the poorest communities in Tibet, Nepal, and India. The organization places a special emphasis on the empowerment of women and young girls and the preservation of cultural heritage. Over twenty years of experience have allowed the organization to establish a collaborative team of professionals who work within local communities to identify and implement projects that respond directly to their needs. Even in adverse political situations, their projects have continued to thrive because they are community-based in scale and focus.
Since 2013, Karuna-Shechen has been running an Advanced First Aider (AFA) Training Program in Nepal, under the Disaster and Emergency Response Program. Within this program, the organization has trained 294 AFAs to date, and is currently training 100 more and has been conducting medical response drills, to be ready to respond immediately in case of natural disasters.
Karuna-Shechen relief work in Nepal follows a 3-step program:
Medical response, both short-term and long-term;
Food and shelter, both short-term and long-term;
Rehabilitation and reconstruction, essentially long-term.
Shechen Clinic, in collaboration with the monks at Shechen Monastery in the vicinity of the clinic which housed hundreds of people left homeless by the earthquake of April 25, 2015, assisted and treated the wounded in the neighborhood. Sechen Clinic's doctors and medical staff have been mobilized around the clock to help. Medical teams go every day to places hardly accessible. In partnership with local NGOs, Karuna-Shechen brings to the population affected by the earthquake, especially in remote areas and the villages of Kathmandu Valley, food, medicine and shelter. The organization directs its rescue efforts and aid to small and isolated communities, where conditions are extremely poor and there is a high risk of epidemics.
Matthieu Ricard
Born in France in 1946, as the son of French philosopher Jean-François Revel and artist Yahne Le Toumelin, Matthieu Ricard is a Buddhist monk, author, translator, and photographer – regarded as "the happiest man in the world". After completing his Ph.D. degree in cell genetics in 1972 at the Pasteur Institute under French Nobel Laureate François Jacob he moved to the Himalayan region where he has been living for the past 40 years.
Matthieu Ricard is the author of several books, translated into over twenty languages, such as: "Happiness: A Guide to Developing Life's Most Important Skill", "Why Meditate? (The Art of Meditation in the UK)","The Quantum and the Lotus (a dialogue with the astrophysicist Trinh Xuan Thuan)", and "The Monk and the Philosopher", a dialogue with his father.
Matthieu Ricard has dedicated his life to the study and practice of Buddhism following the teachings of the greatest Tibetan spiritual masters. He has been the French interpreter for the Dalai Lama since 1989. For many years Matthieu Ricard has been photographing the landscapes, spiritual masters, and people of the Himalayas. His work is exhibited in museums and art galleries throughout the world. He is the author and photographer of a number of photography books.
Matthieu Ricard is a board member of the Mind and Life Institute, an organization dedicated to broadening the understanding of how the mind works. He contributes to the research on the effect of meditation on the brain at various universities in the USA and Europe and is the co-author of several scientific publications. He also contributed for the book Destructive Emotions, edited by Daniel Goleman.
He received the French National Order of Merit for his humanitarian work.
WHO SUPPORTS US:
The Expedition for Lhotse Ascent was supported by CertInvest (Main Partner), TotalSoft (Partner), Zitec (IT Partner), OMA Vision (Communication Partner), and also by Intercapital Invest, Accountess, World Class, Suplimente.ro, Sanador (Supporters).
The Joy for Nepal Campaign is supported so far by: 
Friends: Ivan Patzaichin, Sprint Canoe Olympic Champion; Oana Pellea, Actress; Eugen Voicu, Founder CERTINVEST; Cătălin Tolontan, Journalist; Liviu Drăgan, CEO TotalSoft; Cristian Lascu, Speleologist; Vlad Mixich, Journalist; Adelin Petrișor, Journalist.
Partners who made this project possible: OMA Vision, ZITEC, ZVÂC, NETOPIA, HEADVERTISING, ACCOUNTESS, Graphician Tuan Nini, CCIFER, donatie.ro, Ana Florea, 148 Creative Sound Studio, Alex Tuhut Voice Over.
Corporate Donors: CERTINVEST, Cris-Tim, TotalSoft, Hyperion Media, Trend Consult, Hipo, TatKraft GmbH, ROHOST, PC4U, Pierre Basma Consulting, Kaizen Institute, Hyperion Media
Media Partners: TVR, TVR News, Sports Gazette, RFI Romania, National Geographic, FP România, Men's Health, Think Outside the Box, Decât o Revista, Auto Motor Sport, House & Garden, Woman Today, Dilema Veche, Historia, Adevărul, Adevărul-Weekend, Romania-pozitivă.ro, Cariere, Kiss FM, Magic FM, Rock FM, Kiss TV, Antena 3, Observator, HR Manager, Unica, wall-street.ro, Click!, emunte.ro, HAC Publishing House.
The SMS Donations Campaign is done through 2 EUR donations via each SMS sent to 8826 over the Orange, Telekom Romania Mobile, Vodafone and ARC networks. No VAT is added to SMS donations by subscribers. The VAT for Orange and Telekom Romania Mobile prepaid SIM cards is charged with the prepaid amount. No VAT is charged for donations via prepaid Vodafone SIM cards.
For additional details:  
nepal@alexgavan.ro