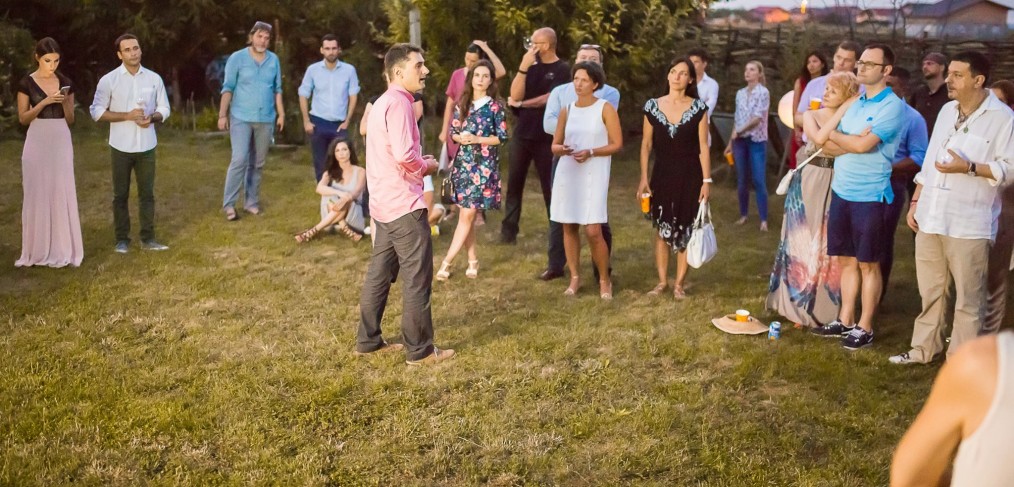 Party with Friends & Charitable Auction
Bucharest, July 30, 2015 – The weather channel said that either it would be the hottest night of the year, or it would rain. And we were getting ready at the last minute to put together a charity party in order to raise more funds for # joy4nepal. It was a private initiative. A known journalist, Monica Dascalu, inspired by our campaign, decided to invite her friends to a garden party, to help #joy4nepal. We said then that we had friends, too, not only the campaign itself, but also Alex. So in less than a week we joined forces and organized, precisely for that scorching evening, one of the most exciting fund-raising actions for this project.
It was a last-ditch effort, materialized only thanks to friends and companies who helped us organize everything on the go in order to receive guests properly. Eventually all things fell into place like a well-behaved puzzle. We received delicious snacks from Marius Tudosiei at Old Grocery Store (Băcănia Veche); home-made ice-cream from MoritzEis, courtesy of Moritz Fried; rose and red wine from the Rottenberg Cellars; tropical fruit juice from Rubicon and natural apple-juice from MellowDrinks; professional sound system from Bassak Media; fountain-cold water from our hosts, Greenitiative Organization. Its headquarters in Mogosoaia, Green Mogo, hosted the charity party in their fascinating orchard, carpeted with lavender. The photos were taken by Oana Bardan, of Alex Domnisoru team from Your Photographer (Fotograful Tău).
It was a true evening among friends, full of joy and generosity. We talked about # joy4nepal campaign, about what has inspired this project and its backstage anima, from the first feeling, to idea, and then to action. But it was fun as well, a game we all join in: Marius Vintila MC'ed the evening's charity auction. It was the first auction he has ever led, but he did it with gusto, showing most promising talent.
The items auctioned were also donated by people and companies who wanted to support our cause: journalist Amalia Enache donated a necklace & earrings set, bearing stories from her field reports and other charitable activities; TNT Brothers donated, via journalist Mariana Neagu, a parachute jump; artist Marie Nicolle has sparked a real competition for her signature scarf, handbag, and lampshade; Bulandra Theater donated entry vouchers to all next season's premieres; Adrian Nitoiu contributed with a trip to the Danube Delta, offered by Genius Delta Resort; Demeter Ruxandra donated a painting by Octavian Roguski, together with its easel; Green Mogo offered a gift-basket with lavender and their own natural home-made products; Marius Vintila offered a national rugby team jersey.
The most disputed items were: a canoe (pagaie) autographed by Ivan Patzaichin, a friend of the campaign; the "Renaissance" painting signed by Ana Necolau and donated by Rotenberg Uzunov Art Gallery; and an autographed photo of Alex, taken on Lhotse, the mountain he was trying to climb this year when the Nepal earthquake occurred.
It was late at night when we parted ways, and the sky was already illuminated by the first lightening. But we left the garden with the soul full of light from the great experience. Not only because we had managed to raise a substantial amount for # joy4nepal (i.e., 5,000 Euros) but also because we shared the joy of generosity and openness to one another, beyond any barriers, or distance, or obstructions.
All photographs taken by fotografultau.ro can be viewed here.
Special thanks to the organizations that made the party possible and a success: